Content
Onze services
Accountancy
We tekenen een plan uit voor uw boekhouding, kijken de rekeningen na en werken een compleet beeld uit van de financiële situatie van uw bedrijf.
ga verder
Fiscaliteit
AccountaX helpt u vooruit met alles wat met fiscaliteit te maken heeft. We stellen samen met u een plan op en bouwen een solide aanpak op.
ga verder
Advies
Als vertrouwenspersoon zijn wij de beste adviseur voor uw onderneming. Wij helpen u bij álles wat met uw cijfers te maken heeft.
ga verder
Onze oplossing
Ontwerp
We komen samen met u tot een ruwe schets en ontwerpen de financiële structuur die best bij uw bedrijf past. Zo werken uw financiën constructief voor u.
Planning
We tekenen een plan uit voor uw bedrijf. Zo weet u dat uw fiscaliteit of boekhouding tot een goed resultaat zal komen en staat u niet voor verrassingen.
Uitvoering
We beginnen bij de fundamenten en bouwen daarop verder. We stemmen op afgesproken tussentijden de verdere uitbouw met u af.
Kunnen we u helpen?
Zit u met een vraag over uw accountancy of fiscaliteit?
contacteer ons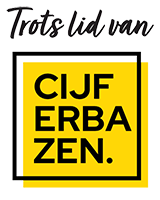 Trots lid van Cijferbazen
Een collectief van 6 groeiende boekhoudkantoren
Om onze klanten nog beter te ondersteunen, is AccountaX sinds 2022 lid van de Cijferbazen-groep. Zo vergroten we onze kennis & netwerk, kunnen we extra diensten aanbieden en staan we sterker als kantoor.